Spanish Architect Transforms Defunct Cement Factory Into Work of Art
Advertisement
Despite the
breathtaking transformation
that La Fabrica has undergone, it remains a work in progress, as the architect updates the spaces to reflect the constant evolution of both his life and design in general. In fact, Bofill has said that he gets the most inspiration from the factory, living and working better when he's there than anywhere else. "It is for me the only place where I can concentrate and associate ideas in the most abstract manner," he wrote on his website. "I have the impression of living in a precinct, in a closed universe which protects me from the outside and everyday life. The Cement Factory is a place of work par excellence. Life goes on here in a continuous sequence, with very little difference between work and leisure," Bofillo added. It's not hard to see why he feels that way. Check out the photos of the grounds below, and don't forget to
SHARE
them with other architecture buffs!
The industrial complex housing the cement factory had more than 30 silos, subterranean galleries, and machine rooms.
The factory featured stairs with no destination, reinforced concrete, and tons of exposed iron.
Enough with the old. … Today, eight of the original silos remain at La Fabrica, serving as offices, a models laboratory, archives, a library, a projections room, and a large space referred to as "The Cathedral."
The architecture team's studio is sprawled over four floors in the silos. Each floor is connected by a spiral staircase.
While the studio inside the silos reflects refinement and utility, the exterior retains a rugged charm.
La Fabrica is surrounded by thriving gardens and lush greenery.
Bofill seamlessly integrates modern features, such as this outdoor patio area under a building, with the surrounding remnants of the ruined cement factory on the right.
The residence portion of La Fabrica contains a main living room on the upper level, an open kitchen/dining room on the ground floor, and a more private living area finished with Moroccan-tiled walls.
For more info on La Fabrica and to see the architect's extensive gallery of photos,
visit his website
.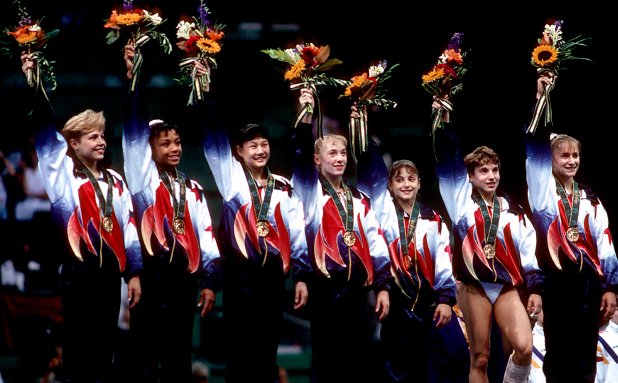 Olympic Greats: Where Are They Now?
You'd be hard pressed to find an event that captures the collective hearts and minds of the world more effectively than the Olympics. Every few years, the Olympics hits the national consciousness like a hurricane - commanding everyone's attention for a few weeks and giving people amazing athlete after amazing…
click here to read more
Advertisement
In 1973, Spanish architect Ricardo Bofill purchased an abandoned cement factory in Sant Just Desvern, Barcelona. The defunct factory had been out of use since World War I, but Bofill saw its potential, transforming over the next few decades the WWI-era property into the beautiful, lush site it is today. Dubbed La Fabrica, the renovated factory includes gardens, a studio, a residence, and even a giant space dubbed "The Cathedral!" Looking at it today, you'd never guess what the former cement factory looked like in the '70s, or earlier when it was operational.